(5) Reasons Why Roof Estimates MUST Include Attic Inspections
By: Justin Trigalet     February 21st, 2020
When a potential clients calls Roofing & Beyond to schedule a roof replacement estimate, there's a few standard questions that we always ask…
›How old is the roof?

›Do you have any current problems with the roof (leaks)?

›When would you like to have the work done?
But for some reason throughout the roofing industry, there is one question that is often forgotten or just intentionally ignored – "Is there attic access?"
When I first started Roofing and Beyond, I was the only one answering the phone, so I know (very well) how the conversation can go. Often times, there is a brief awkward silence before the 'yes' or 'no' answer (as if it was a trick question), followed up by "I called to schedule a roof replacement estimate, why do you need to look in my attic?!?"
This is a very common response, so I figured an explanation was in order…
To a roofing contractor, looking in the attic is like a doctor taking an x-ray before performing surgery or a mechanic looking under the hood of a car to diagnose engine trouble.
1) Inspection of Plywood / Roof Boards
The wood substrate (or underlying supporting material for a roof) is typically made of 4′ x 8′ sheets of plywood or 1″ x 6″ roof boards.  During an attic inspection, we asses the wood's overall condition and also look for:
-Water stains due to a previous or current roof leak.
-Wood that is delaminated (or peeling apart) – usually caused by too much moisture inside the attic.
-Buckling or sagging plywood can be caused by a combination of issues including: too much moisture, missing plywood clips or another underlying structural problem.
-Broken/cracked trusses may look like minor damage, but if a single truss is compromised, the surrounding trusses have to bear more weight than they were designed to do.  Carpentry work like this can typically be repaired during a roof replacement project.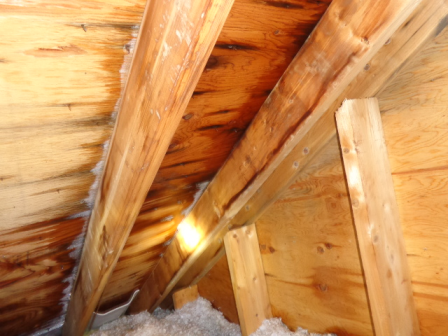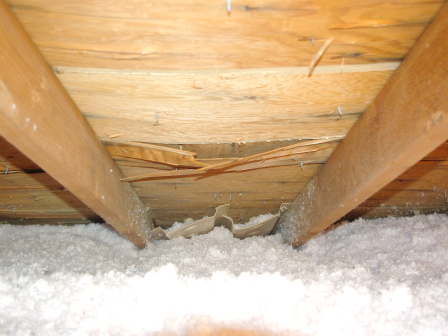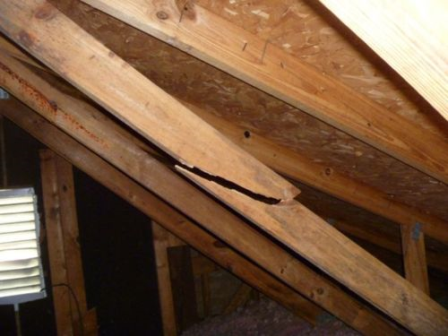 2) Intake Ventilation
Airflow into the attic from the bottom of the roof or underneath at the soffit. Based on the home's design, there are a few different options of intake ventilation available including:
–Vented Vinyl Soffit – Either perforated or 'hidden vent'
–Undereave Vents – Made of aluminum, the most common sizes are 4" x 16" or 8" x 16" soffit vents
–Continuous soffit vent – Also made of aluminum, these vents are 2" wide and 8' long
› For homes that lack proper intake ventilation DeckAir Vent or SmartVent can be installed during a roof replacement project. For these applications, a slot is cut near the bottom edge of the roof which allows air to flow freely into the attic.
Note: In order for intake ventilation to work correctly, there must be an opening, and insulation should not be blocking airflow.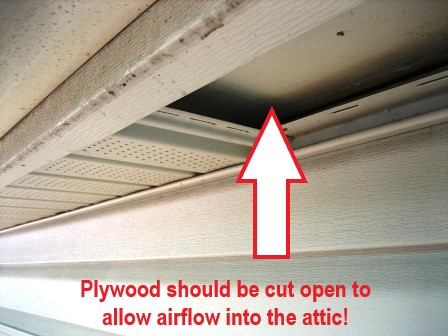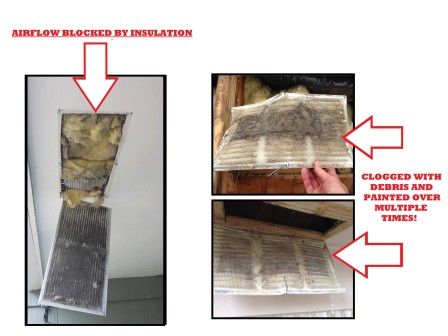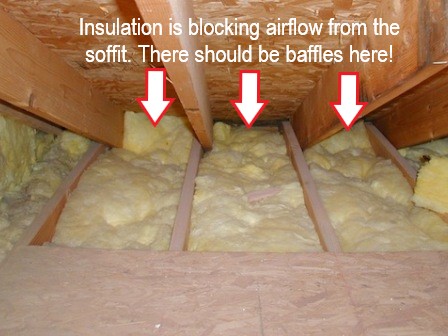 3) Exhaust Ventilation
Airflow out of the attic – installed at (or near) the peak of the roof. Different options of exhaust ventilation are available based on the home's design:
-Can Style 'Box' Vents – Typically made of aluminum and available in different colors (black, brown, gray)
-Power Vents – Large dome shaped vents that require an electrical connection. Modern power vents come equipped with an adjustable thermostat and humidistat that kick on automatically based on the setting.
-Ridge Vent – A slot is cut (approx. 2-3″ wide) at the roof's peak for air to escape. Installed along the entire length of the roofline and combined with proper intake ventilation, ridge vent is the most efficent exhaust ventilation system you can install.
Note: These products should not be mixed on the same roof/inside the same common attic space or they can potentially pull air from each-other and short circuit the ventilation system!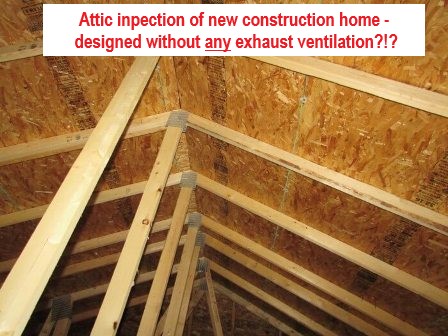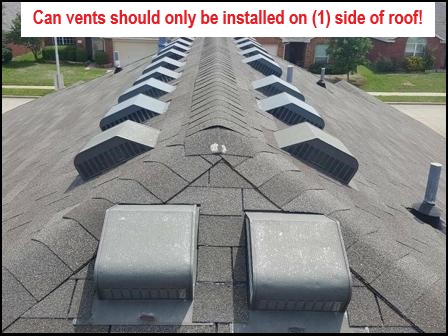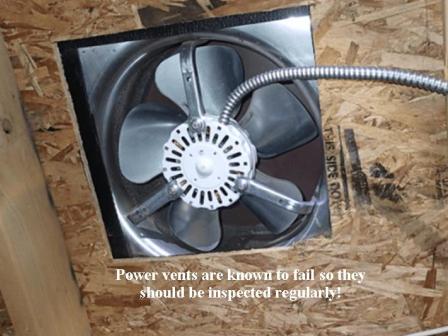 4) Insulation Levels
Saving money isn't the only reason insulation is important. Research has shown that the combination of proper ventilation and higher levels of insulation is the best way to avoid ice dams from forming. 
The perfect time to address an under-insulated attic is during a roof replacement and here's why:
-The entire process is safer to do from the top side as compared to crawling around a usually small and dark attic space.
-If we can avoid our crew members from walking in and out of a customer's house multiple times to gain access to an attic hatch, that's exactly what we would prefer. Not that we wouldn't clean up after ourselves, but sometimes coordinating a day and time for someone to be home isn't even possible.
-During a roof replacement project we can strategically remove a couple sheets of plywood which grants us both easy attic access and the luxury of natural daylight!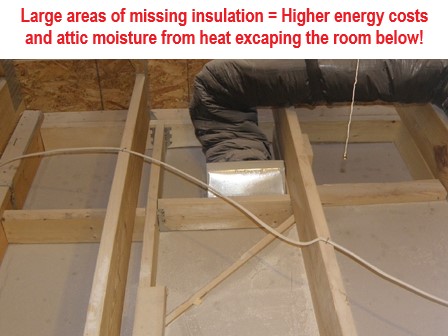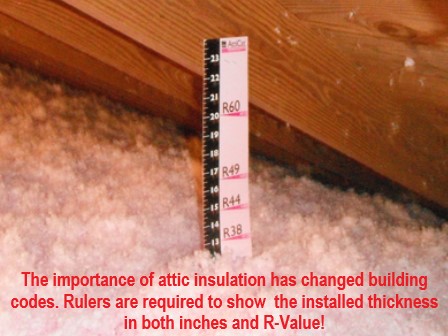 5) Bathroom Exhaust Vents
Michigan code did not require exhaust air from bathrooms to be vented outdoors until 2000. Bathroom fans that vent directly into the attic often lead to serious problems. In many cases, moisture from bathroom fans is the primary source of attic mold infestation.
Even now some 20 years later, I still see bathroom duct work that vents directly into the attic at least once a week.